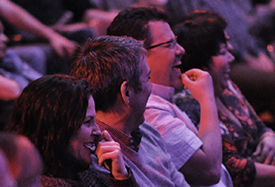 Lawrence Howard and Lynne Duddy of Portland Story Theater offer three different storytelling workshops so that you can learn to express yourself with this amazing art form. In our workshops, we teach intentional storytelling where you'll learn how to tell stories improvisationally by being resourceful and using the power of spontaneity. Our approach teaches you to trust the story and speak extemporaneously from the heart.
We offer three different workshops to fit your level of interest and your schedule.
Please call 503-284-2226 before registering if you:
require a disability accommodation.
are interested in bringing a workshop to your business, school, nonprofit. (We have group rates)
have any questions or need additional information.
Next Public Session is sponsored by the Libraries of Eastern Oregon
February 20, 2016
Cascade Locks Community Center
10 AM to 12 PM
2-hour Commitment
March 5, 2016
2 PM to 4 PM
2-hour Commitment
Hood River Library
Bring your friends! Have some fun!
These two sessions are free through a generous grant from LEO (Libraries of Eastern Oregon)
Join our mailing list to keep up with notifications about this workshop
If you just want to see if storytelling is your thing, take this lively 90-minute workshop, Storytelling Starter. Fast-paced and fun, you'll have a chance to discover your inner storytelleller! No pressure. No performance. Group rates also available for nonprofits and businesses. Read More

Next Public Session:
Sunday March 20, 2016
One-Day Commitment
10:30 am – 6:00 pm with lunch break
Sign-up today!
$150
Maybe our one-day Storytelling Bootcamp fits your level of interest in personal narrative, and more importantly, your busy schedule. No pressure to perform. Everyone welcome, no experience necessary. Includes individual time with the instructors Read More

Next Public Session:
Begins 4/19/2016 | Ends 5/17/2016
Five-Week Commitment
8 Sessions 7:00 pm -10:30 pm
Limited to 6 participants
$225
Call 503-284-2226 to Register
If you're ready for a creative challenge and have been thinking that you'd really like to explore storytelling in depth, the 8-session Art of Personal Narrative is the perfect opportunity to discover, craft, and tell your story to a live audience.
This workshop is offered in October, November, March, April, and May. Look at the schedule for specific dates, find out what to expect and whether you meet the prequisites for this one. Read More.