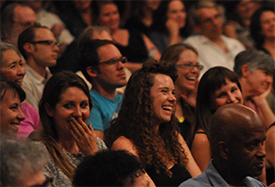 Portland Story Theater's Storytelling Starter is designed to give you a taste of the fabulous art form of storytelling in less than 2 hours. Interactive. Fast-paced. Fun!
In all of our workshops, we teach intentional storytelling where people will learn how to tell stories improvisationally by being resourceful and using the power of spontaneity. Our approach teaches participants to trust the story and speak extemporaneously from the heart. You'll get a chance to learn about story structure, the power of presence, the differences between writing and telling, and how to find the story that you need to tell.
NOTE The Sunday, January 8th session (1-3PM) has been rescheduled to Sunday, January 15th (1-3PM) due to inclement weather.
Up-Coming Public Sessions
7 pm – 9 pm Wednesday, April 12, 2017 (Portland)
Call 503.284.2226 for registration information.
PAYMENT POLICY  Full payment is expected when registering. Please note that Portland Story Theater cannot give refunds (full or partial) for voluntary withdrawal from the class. For corporate groups, payment is expected on the day of the workshop.
Join our mailing list to keep up with notifications about this workshop or check back to this page periodically. Thank you!
PREREQUISITES Everyone over 18 is welcome to participate. We encourage you to bring a friend, a family member, a co-worker, your neighbor. There are no prerequisites for this workshop, all you need is a desire to tell your personal story. Please let us know if you require a disability accommodation before registering.
Group Rates
Please call for special group rates. We offer discounts to nonprofits.
We can bring this workshop to your group! You provide the space, we provide the story expertise with up to four (4) facilitators
Questions? Please call us at 503.284.2226