As the old cliche goes, "When it rains, it pours." This week, Portland Story Theater has nearly hit hurricane status with our packed schedule of events across Oregon–and we couldn't be more excited.
Tomorrow, we are thrilled to work with TEDxMtHood to bring the art of storytelling to participants who are new to the craft with our 90-Minute Storyteller Starter workshop. With Portland Story Theater founders Lynne Duddy, Lawrence Howard and Penny Walter joined by crowd-favorite Leigh Hancock, the evening is bound to be both fun and inspiring. One or two space may still be available, register now!
On Thursday, we are at it again–this time we will be in Pioneer Courthouse Square for The Standard's 2015 Volunteer Expo. This FREE event is a gathering of nonprofits from the Portland community with the shared goal of connecting Portlanders with service opportunities and organizations that fit their personal interests. This amazing event runs from 11 am-2 pm and will even feature a My Volunteer Story video booth, where participants can share their personal stories of volunteering in the community. We will be over in booth #61 spreading the storytelling love. Stop on by! Share your story with all of Portland! Or just hang out and meet cool people! We mentioned it's free, right?
When it rains, it pours–Friday will continue our event streak! We will be packing up our stories and driving them down near Salem to Dallas, Oregon to kick-off the Dallas Storyteller Festival! Doors open for our free performance at 6:30 pm. Join us at the Dallas Civic Center for a rollicking evening of real, true stories from some of our most beloved storytellers.
Saturday evening promises to be our biggest night yet with our season-opening MainStage performance of Founders, Friends, and Faves. We are thrilled to return to our storytelling home, the Alberta Abbey, and celebrate the start of our e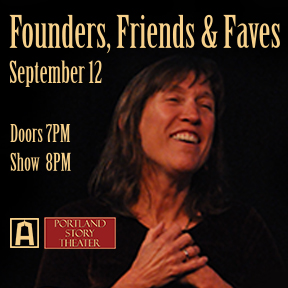 leventh season with some epic tales, jazz, and tasty treats. What's on the storytelling menu? Just your (not-so) typical stories of memory versus reality, death by 7,200 volt shock, conversations with the dead, being abandoned in the mud, Mr. Mom gone wrong, and a love story of Adventure Boy meets Portland Girl. The perfect end to what is sure to be our busiest week yet!