This past season was the biggest that Portland Story Theater has ever had. The stories were awe-inspiring and the company of our loyal audience made each performance feel like an intimate gathering. There were countless moments of inspiration, surprise, and joy. Still, some burn brighter in our memories than others–for better or worse. Here are five of the most memorable moments from our 2014-2015 season!
For our tenth anniversary season we decided to take it up a notch with a bigger venue–the beautiful Alberta Abbey. This was a huge step for us, and at the time we were concerned about filling the seats. However, from our first show to our last, it has been a huge success and we are so delighted to bring storytelling to more people than ever before!
2. The Engagement
That's right, this year Portland Story Theater played a part in a love story when our videographer, Aaron Hartling, proposed to girlfriend Paige Byrom on stage during our Valentine's show! It was a beautiful moment with happy tears and a standing ovation from the audience when she accepted. You can read more about this moment in a separate blog post below.
3. The Emergency Scare
Imagine standing on stage, telling a deeply emotional story when suddenly you realize that there is a disturbance in the audience. Our final teller was bringing her story to a close, when someone in the audience cried out, "Call 911!" The show stopped. It turned out to be a false alarm.  Though it sounds like the worst sort of public-speaking nightmare, it was a real, true story that happened this year to Urban Teller Donna Zerner, who cracked a joke, and without missing a beat, finished her story to a standing ovation. Ah yes, live theater… anything can happen. (You can listen to the podcast of Donna's story, Out of My Mind on our PDXStoryTheater SoundCloud channel.)
4. The Essex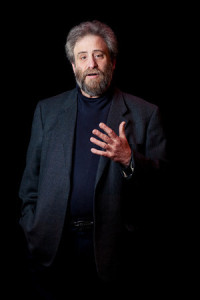 After the repeated success of his Armchair Adventurer story, Shackleton's Antarctic Nightmare, many wondered what Lawrence Howard could possibly do next. But last January he wowed audiences with The Essex, the true survival story that inspired Hermann Melville's Moby Dick. It was a tale of horror and heartbreak beautifully delivered, showcasing Howard's talent and passion for long-form storytelling. Check out a review of the show here.
5. A Tribute
In 2014, our world mourned the loss of one of our funniest men–Robin Williams. This year, Leigh Hancock told a story of her encounter with him when she worked as a waitress in one of Tucson's finest restaurants. Heartwarming and insightful, the story shows how a simple act of kindness can leave an unforgettable mark on the lives on others.
You can see Leigh Hancock, live and in person, this coming September 12th at Portland Story Theater's season opener, Founders, Friends & Faves. Tickets are available online.