On The Road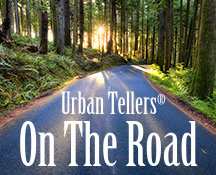 Urban Tellers® On The Road
2016 – 2017
SPRING 2016
Cascade Locks | Hood River
SUMMER 2016
Newport | Port Orford | Gold Beach
FALL 2016
Dallas Storytelling Festival
Florence
Recommended for 21+. Attendees 17+ must be accompanied by an adult.
We're taking our Urban Tellers® shows and Storytelling Starter workshops on the road!
Through the generous support of the Autzen, Miller, and Kinsman foundations, we are bringing our unique brand of storytelling to underserved and rural areas throughout the state of Oregon — places that don't usually get to enjoy this fabulous art form.
Portland Story Theater has invited some of our best storytellers to join us on tour.
ROAD TRIP!!!
Check back regularly to see if your community has invited us to share our stories with you.
(Additional locations to be announced)
---
Thank You to Our Generous Sponsors!