Hello Out There!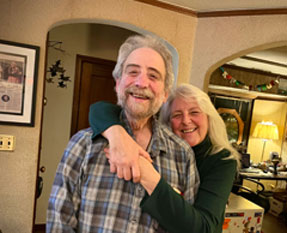 KBOO.FM's Radio Show Jonesy
This December 23, 2021, at 11am Pacific Time, you'll have a chance to hear a couple of short stories with Lynne Duddy and Lawrence Howard on KBOO.FM's radio show, Jonesy, hosted by the wonderful Ken Jones. You can listen live on the radio (Portland 90.7, Corvallis 104.3, Hood River 91.9) or online at KBOO.FM. Busy right then? You can stream this episode any time.
Ken starts the program interviewing Lynne and Lawrence about what we've been up to during the pandemic and Portland Story Theater's future plans. Then the stories.
Lynne will be sharing the story "Do You Have A Dog?" Visiting her mother's grave on a dark and stormy night a few days before Christmas, Lynne has what seems almost a supernatural experience with someone who may have been an angel with a dog. This story was originally part of her one-woman show, Dark Matter, in 2009.
Lawrence will tell "The Secret Christmas Tree." Eight crazy nights of candles and latkes and dreidel is all well and good, but what about Santa? And Frosty, and Rudolph, and presents under the tree? Did it have to be one or the other? The Secret Christmas Tree is about how one Jewish family celebrated the holidays in the suburbs of New York. Lawrence first told this story as part of his one-man show, The Adventures of Huckleberry Horowitz, in 2010.
Looking Forward to 2022… Fram!
It's been a long and lonely time since we last saw you. We hope you are well and are surviving this crazy time. We have missed connecting with you and sharing stories.
Portland Story Theater is an investment in opening minds, challenging assumptions, and finding our common humanity. Our call to action has always been to step up, provide safe space for each other, and engage in ways that matter. So stay tuned! A few different folks have approached us with ideas for safe, live performances and we're exploring these options. We look forward to coming together with you, our storytelling community… possibly later this Winter or in the Spring. We're hoping for the best.
Until then, all of our events, shows, gatherings, and workshops are postponed. We will keep you up-to-date via this website or through our email announcements. Be sure you are on our mailing list to receive all updates as they happen.
We are very grateful to all of you beautiful people who continue to come together with PDX Story Theater by following and reviewing our podcasts on our iTune channels: Urban Tellers and Urban Tellers Backstory or our videos on our YouTube Channel.
You are part of Portland Story Theater's vision to advance, inspire and expand our community narrative, one story at a time – and in doing so, preserve and promote the ancient art of storytelling in a way that enriches modern life, allowing and encouraging people to be vulnerable and present in ways that are crucial to the full expression of our humanity.
May The Narrative Be With You!®
---
Urban Tellers®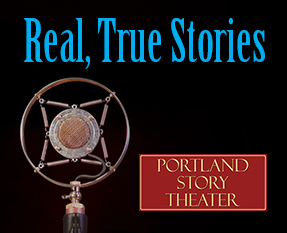 Stories Told Live
Urban Tellers® brings people together to share stories of our mutual human experience. Right now, these live events are postponed until further notice.
You can view the last five years of our video collection on our YouTube channel.
Featured
This story, We Wear The Mask, was part of our special Bridges Urban Tellers® show which focused on race and social justice. Paula Small is a poet and storyteller wherever the world takes her. This is a tale of culture clashes and crashes resulting in possibly more questions than answers.
These Urban Tellers® shows have given people an inside look into the heart and soul of our community.
Special thanks to our long-time videographers Aaron Hartling and Liz Vaughan for their good work capturing and posting these stories from our live events at The Alberta Rose Theatre, Nordic NW, The Old Church, The Fremont, The Alberta Abbey, and Hipbone Studio.
Be sure you are on our mailing list to receive all of the updates as they happen or return to this website for more details.

---
Thank You to Our Generous Sponsors!
Portland Story Theater is generously supported by The McIvor Family Charitable Fund;
Tonkon Torp
; Susan Sullivan; John Moe; Diane Ponti and Ward Greene; Ronni Lacroute; Polk Family Charitable Fund; Dana and Steve Dennis; members of the
Portland Story Theater Board
, Founders' Circle, and Narrative Network, and many other individual supporters, as well as by the
Oregon Community Foundation
;
The Collins Foundation
;
James F. and Marion L. Miller Foundation
;
Meyer Memorial Trust
;
The Kinsman Foundation
;
The Autzen Foundation
;
NW Natural Gas
;
Oregon Arts Commission
; and
The Oregon Cultural Trust
.