Urban Tellers®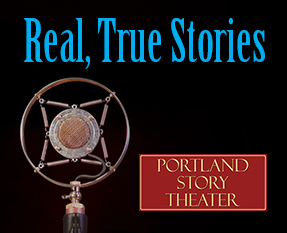 Stories Told Live
Urban Tellers® brings people together to share stories of our mutual human experience. Right now, these live events are on hold. Until we see you again, may the narrative be with you!®
You can view years and years of our video collection on our YouTube channel.
Featured
Portland Story Theater always had a St. Paddy's show. Back in 2018, Lynne Duddy had the great pleasure of telling a story with Bob Burke. It's called, "The Man With No Story." Lynne is telling in English and Bob is telling in Irish. What fun it was!

These live storytelling experiences have given people an inside look into the heart and soul of our community.
Special thanks to our long-time videographers Aaron Hartling and Liz Vaughan for their good work capturing and posting these stories from our live events at The Alberta Rose Theatre, Nordic NW, The Old Church, The Fremont, The Alberta Abbey, and Hipbone Studio.
Be sure you are on our mailing list to receive all of the updates as they happen or return to this website for more details.
---
What We Believe
One Race: The Human Race
We believe that personal story breaks down barriers and reveals the commonality of the human experience. We believe that story is the glue that holds us together and sustains us as a community; that story awakens our consciousness and helps us recognize that we are one race: the human race. We believe that each personal narrative is sacred. We do not seek out celebrities to perform in our shows because we believe that everyone has a story to tell. No need to bring the focus on sensational, titillating or embarrassing stories. We encourage people to dig deep to discover the heartfelt humor and emotional truth of their stories.
Everyone has a story to tell.
Be heard. Honor your emotional truth. Discover your self through story. Discover your history.
Listening builds connection.
Be open. People are transformed by being heard. Listen openheartedly.
Story breaks down barriers.
Be vulnerable. Tell your story. Authentically. Honestly. Sincerely.
We are in a revolution.
Be a part of the change. Story illuminates the universal through the personal. Story awakens our consciousness. Story helps us recognize that we are one race: the human race.
Believe. Act. Transform.
Thank you for being a part of Portland Story Theater's vision to advance, inspire and expand our community narrative, one story at a time – and in doing so, preserve and promote the ancient art of storytelling in a way that enriches modern life, allowing and encouraging people to be vulnerable and present in ways that are crucial to the full expression of our humanity.
May The Narrative Be With You!®
---
Thank You to Our Generous Sponsors!

Portland Story Theater is generously supported by The McIvor Family Charitable Fund; Tonkon Torp; Susan Sullivan; John Moe; Diane Ponti and Ward Greene; Ronni Lacroute; Polk Family Charitable Fund; Dana and Steve Dennis; members of the Portland Story Theater Board, Founders' Circle, and Narrative Network, and many other individual supporters, as well as by the Oregon Community Foundation; The Collins Foundation; James F. and Marion L. Miller Foundation; Meyer Memorial Trust; The Kinsman Foundation; The Autzen Foundation; NW Natural Gas; Oregon Arts Commission; and The Oregon Cultural Trust.