PORTLAND, OR – December 18, 2019 – Bag & Baggage has invited Portland Story Theater, the Pacific Northwest's premier storytelling theater company, to bring their Urban Tellers® show to The Vault in Hillsboro, Oregon. Portland Story Theater will present five of their top stories – chosen from their annual Top Ten list – to be told on Saturday, January 18, 2020 at The Vault. The lineup includes founders Lynne Duddy and Lawrence Howard and storytellers Kathy Gillis, Warren McPherson and Frank Engel. This 120 minute show is fun, fast-paced and filled with personal stories that bring the culture of our community to life. "This is the first time we've worked with Bag & Baggage to bring our Urban Tellers® series to the good people of Hillsboro. The Vault is a fantastic venue for our brand of storytelling," says Portland Story Theater co-founder Lynne Duddy, "and we're very excited." The Vault has an intimate atmosphere with a seating capacity of 150+. Doors open at 6 pm and Stories start at 7 pm. 18+ recommended.
The stories people tell at Urban Tellers® are personal narratives shaped by the truth of the present moment. "This kind of performance is all about being present." says Lawrence Howard, co-founder of Portland Story Theater. "It is a conscious performance that engages people deeply, where the storyteller is always present in the moment, taking the audience on a journey through the inner workings of the heart. It's not about "I" or "me," it's about "we." It is a shared experience where the audience witnesses the teller transform before their eyes, and through that story, the audience is also transformed."
The storytelling performance phenomenon — in which an artist is both creator and performer — is reaching a zenith of popularity within our culture. Unlike TV, radio, or writing, it's face to face, eye to eye and heart to heart. That's what people are so hungry for — that real human connection. Portland Story Theater continues in its mission to build community, promote understanding, and foster radical empathy by giving voice to the real, true stories of ordinary people.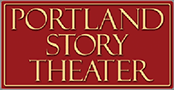 Portland Story Theater is a 501(c)3 and was launched in 2004 to bring the urban community together to hear and tell true stories that stimulate the mind and rouse the heart. Portland Story Theater uses a unique collaborative approach to co-create story theater that is drawn from real-life experiences. Authentic. Honest. Urban. Portland Story Theater is building empathy, compassion and understanding by transforming our community narrative, one story at a time. pdxstorytheater.org/
For all media inquiries, please contact Portland Story Theater, 1-503-284-2226 or by email at media@pdxstorytheater.org.