The Armchair Adventurer travels to Cascade Locks and Bend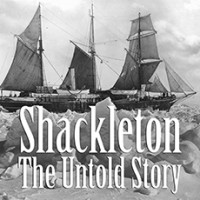 [PORTLAND, OR‒February 25, 2016] ‒This spring, Portland Story Theater is proud to bring Shackleton, The Untold Story to Cascade Locks and Bend, connecting with new audiences and sharing this real, true story with new communities across the state. The Port of Cascade Locks is producing the show on March 26th at The Marine Park Pavilion in Cascade Locks and Solo Speak is producing the show on April 16th at the Cascades Theatre in Bend. For years, Portland audiences have raved about the Armchair Adventure series, created by Lawrence Howard, who according to Oregon ArtsWatch is "one of the city's most engaging raconteurs." Howard shares stories of Ernest Shackleton's daring attempts to cross the Antarctic continent that Dennis Sparks called "storytelling at its best." This new version of Howard's best known tale focuses on the little-known and rarely told story of the Ross Sea Party.
Gripping. Thrilling. Man against nature. Acclaimed storyteller and polar historian Lawrence Howard has often told the true tale of suffering, courage, determination and fortitude experienced by Shackleton and his men. In Shackleton, The Untold Story, Howard explores a new piece to this story – the Ross Sea Party's daring efforts to prepare the way for the Shackleton expedition. This is a story that speaks to something very deep within the human psyche. It's about finding vast reserves of strength we didn't know we had within us. It's about the way human beings respond to hardship and adversity. It's about the indomitable power of the human spirit.
"Adventure fans in Cascade Locks and Bend can now fall in love with the Shackleton story, just like we have," says Portland Story Theater co-founder Lynne Duddy. "Our mission is to make true, provocative, and inspiring stories accessible to everyone — young and old, of all social backgrounds and ethnicities — so we're excited to build community connections and enrich the culture of these areas."
Shackleton, The Untold Story
Portland Story Theater presents Lawrence Howard, Armchair Adventurer
Cascade Locks: Marine Park Pavilion
Saturday, March 26, 2016
Show at 7 PM
Marine Park Pavilion – 395 Southwest Portage Road, Cascade Locks, OR 97014
Presented by The Port of Cascade Locks
Free event. Register here: Shackleton, The Untold Story in Cascade Locks, Oregon
Bend: Cascades Theatrical Company
Saturday, April 16, 2016
Doors at 6:30; Show at 7:30
Cascades Theatrical Company, 148 NW Greenwood Ave, Bend, OR 97703
A Solo Speak Special Session
Tickets $15 advance; $18 at the door
Buy tickets: Shacleton, The Untold Story in Bend, Oregon
Both shows 2 hours with intermission
Appropriate for young adults 15+
Launched in 2004, Portland Story Theater is a 501(c)3 non-profit organization dedicated to making the narrative arts an integral part of Oregon's rich cultural identity and is committed to bringing an authentic story and theater experience to inspire, challenge and expand a sense of community among people living throughout the state. www.portlandstorytheater.org/