Lawrence Howard, Armchair Adventure Series
Fertile Ground Festival 2019
PORTLAND, OR ‒ January 3, 2019
Lawrence Howard brings his one-man show, "
Shackleton's Antarctic Nightmare: The 1914 Voyage of The Endurance
," to the 10th annual Fertile Ground Festival. This show has had sold out runs here in Portland and also played Off Broadway in New York. This year throughout the telling, Laurent Nickel, cellist, will create a soundscape and Michael Hill, Multimedia Artist and Entertainment Technologist, will create image mapping of the trans-Antarctic journey from Frank Hurley's photographs.
Shackleton's Antarctic Nightmare is the gripping, heart-breaking, true story of British explorer, Ernest Shackleton, and the Trans-Antarctic Expedition of 1914. Shackleton's dream of being the first to cross the Antarctic continent on foot became a nightmare when his valiant ship, The Endurance, was crushed in the pack-ice of the Weddell Sea. The story of how he and the 27 men of the expedition survived on the ice and eventually came to safety is an epic tale of hardship and suffering, of courage, determination and fortitude.
Recommended for 15+ this program plays for two nights on January 25th and 26th, 2019 at The Old Church Concert Hall with pianist Roger Paulson at 7 pm and the story starting at 8 pm.
This is the show that launched the Armchair Adventurer series. It is a tribute to Howard's father, Marty. "This show is very near and dear to my heart," says Howard, "because my father and I shared a lifelong passion for the Shackleton story, and I like to weave a few threads about him into the telling."
In past presentations of this show, Portland Story Theater has displayed a montage of Frank Hurley's photos but this year, Michael Hill is creating a series of images that will be projected during the telling. There are over 125 images that have been incorporated as part of the show. Music is also a new addition to the experience. Laurent Nickel leads Portland Story Theater's jazz duo, Rogeri. Besides playing a mean bass, Laurent is an accomplished cellist and has created a soundscape to accompany Howard's epic telling.
Shackleton's Antarctic Nightmare
Created and told by Lawrence Howard, storyteller
Musical soundscape by Laurent Nickels, cellist
Visual imagery by Michael Hill, multimedia artist
Friday, January 25, 2019 and Saturday, January 26, 2019,
 8:00pm

The Old Church Concert Hall, 1422 SW 11th Avenue, Portland, Oregon
TIX $15 advance, $20 day of show, $5 PDX Arts for All
Show Website: Armchair Adventurer
Performance Reviews:
Newspaper Articles:
About Lawrence: Lawrence Howard website
Photographs, Articles, Additional Reviews: Lawrence Howard's Press Kit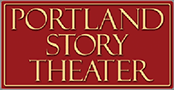 Portland Story Theater is a 501(c)3 and was launched in 2004 to bring the urban community together to hear and tell true stories that stimulate the mind and rouse the heart. Portland Story Theater uses a unique collaborative approach to co-create story theater that is drawn from real-life experiences. Authentic. Honest. Urban. Portland Story Theater is building empathy, compassion and understanding by transforming our community narrative, one story at a time. pdxstorytheater.org/
For all media inquiries in reference to the Armchair Adventurer Sereis, please contact Portland Story Theater, 1-503-284-2226 or by email at media@pdxstorytheater.org.